Book - The Flying Nurse - Prudence Wheelwright
Nurse and midwife Prue Wheelwright has worked in the most remote parts of Australia and around the world. In isolated, far-flung locations and on dangerous frontlines, this passionate and dedicated nurse has put her heart, and often her safety, on the line, day after day, year after year.

Prue shares all the challenges, the joys and the heartbreaks in her life as a travelling nurse, from working in outback Australia to developing a pediatric HIV project in Tajikistan, setting up a 24-hour maternity hospital in an Ethiopian refugee camp and working with the Saudi royal family. Most recently she has joined the Royal Flying Doctor Service, combining her love of travel, adventure and healthcare.

In her work Prue has witnessed the extremes of humanity: the extraordinary highs and devastating lows. A highly skilled nurse with a huge heart, Prue will inspire you and move you with her tales of life at its most raw and real.
Dimensions: 23.2 x 15.3 x 2.4 cm
Pages: 304
Cover: Paperback
With every purchase you'll be supporting our work to save lives and bring primary healthcare to Australia's outback communities. Thank you!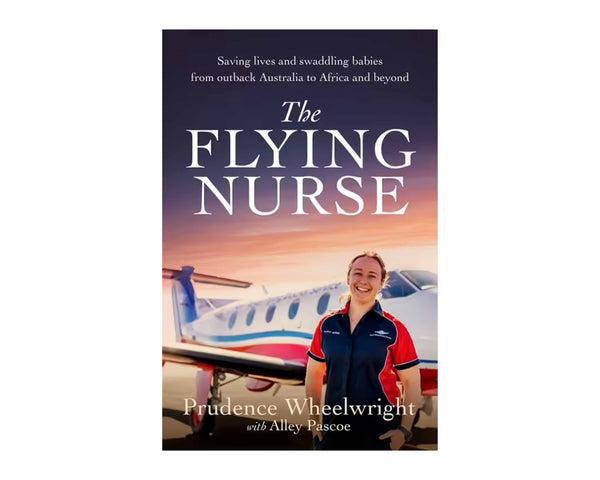 Shipping information
Our shipping & handling rates in Australia are calculated as per table below. For your order you see the applicable rate in the checkout based on the weight of your order.
International shipping rates
Depend on the country to ship to; please add your items to the cart and the delivery costs will be calculated at the checkout.
Delivery
Orders will be shipped from our warehouse on weekdays usually within 48 hours after receiving your order.
Returns
If you are not entirely happy with your purchase, or if there is an error with your order, please contact our RFDS DocShop support team docshop@rfdsse.org.au to arrange a refund or exchange. Please state your order number.