Book - Runt - Craig Silvey
Winner, Dymocks Book of the Year for Younger Readers, 2022, AU 
Winner, Best Children's Book, Indie Book Awards, 2023, AU
A heart-warming, funny, beautifully told story for readers of all ages from the bestselling author of Jasper Jones and Honeybee.

'You don't have to carry the weight of the world in your tool belt.'

Annie Shearer lives in the country town of Upson Downs with her best friend, an adopted stray dog called Runt. The two share a very special bond.

After years evading capture, Runt is remarkably fast and agile, perfect for herding runaway sheep. But when a greedy local landowner puts her family's home at risk, Annie directs Runt's extraordinary talents towards a different pursuit - winning the Agility Course Grand Championship at the lucrative Krumpets Dog Show in London.

However, there is a curious catch: Runt will only obey Annie's commands if nobody else is watching.

With all eyes on them, Annie and Runt must beat the odds and the fastest dogs in the world to save her farm.

Runt is a heart-warming and hilarious tale of kindness, friendship, hurdles, hoops, tunnels, see-saws, being yourself and bringing out the best in others.
Dimensions: 21.6 x 14.8 x 3.7 cm
Pages: 352
Cover: Hardback
With every purchase you'll be supporting our work to save lives and bring primary healthcare to Australia's outback communities. Thank you!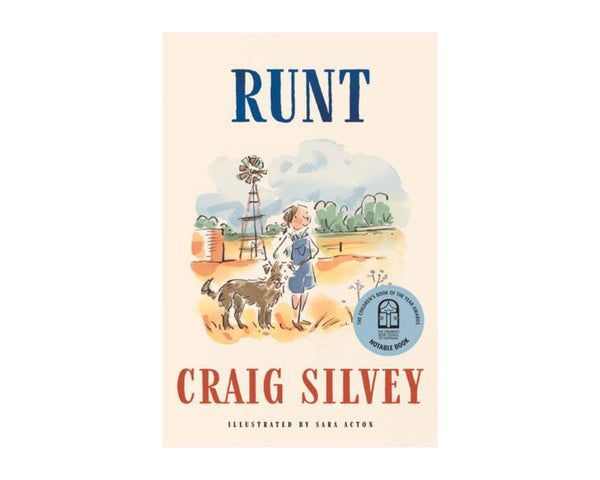 Shipping information
Our shipping & handling rates in Australia are calculated as per table below. For your order you see the applicable rate in the checkout based on the weight of your order.
International shipping rates
Depend on the country to ship to; please add your items to the cart and the delivery costs will be calculated at the checkout.
Delivery
Orders will be shipped from our warehouse on weekdays usually within 48 hours after receiving your order.
Returns
If you are not entirely happy with your purchase, or if there is an error with your order, please contact our RFDS DocShop support team docshop@rfdsse.org.au to arrange a refund or exchange. Please state your order number.