Power Bank - RFDS - 5,000mAh Wireless Charging with Case
ONLY AVAILABLE WITHIN AUSTRALIA 
Charge your devices when out-and-about!
State-of-the-art 5W wireless charging power bank that can charge two devices at once. It will charge devices that are enabled for wireless charging simply by placing them on top of the power bank (Please note that some phone cases may affect the wireless charging connection).
Conventional charging for almost any phone with a wraparound cable that fits neatly into the housing. It has a Type-C connector and a unique double-sided connector with Lightning on one side and Micro-B USB on the other.
The cable is also used for recharging the power bank from a USB port or a mains adaptor.
5,000mAh of power storage, an input power of 5V/2A and an output power of 5V/2.4A.
EVA carry case is included. 
Royal Flying Doctor Service colour logo printed on Power Bank.
Dimensions

Power bank: L 135mm x W 70mm x 11mm.
Carry case: L 174mm x W 110mm x 33mm.
Please note this product can only be shipped within Australia.
With every purchase you'll be supporting our work to save lives and bring primary healthcare to Australia's outback communities. Thank you!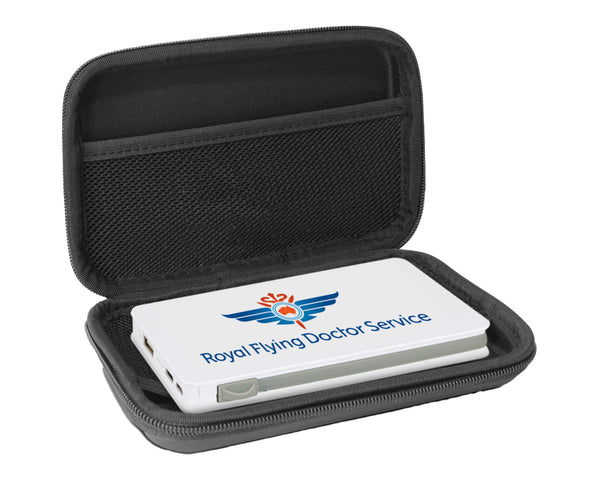 Shipping information
Our shipping & handling rates in Australia are calculated as per table below. For your order you see the applicable rate in the checkout based on the weight of your order.
International shipping rates
Depend on the country to ship to; please add your items to the cart and the delivery costs will be calculated at the checkout.
Delivery
Orders will be shipped from our warehouse on weekdays usually within 48 hours after receiving your order.
Returns
If you are not entirely happy with your purchase, or if there is an error with your order, please contact our RFDS DocShop support team docshop@rfdsse.org.au to arrange a refund or exchange. Please state your order number.